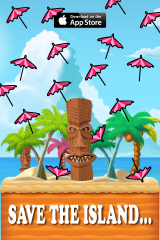 Caribbean Catch - Save tropical paradise with your coconut in the
App Store
Grab your Coconut! Catch the umbrellas as they rain down, faster... faster...
Allen, TX - July 10, 2014 - Available today the game Caribbean Catch. A simple game that turns a few idle minutes into an enjoyable break with thoughts of your next tropical vacation.
The gameplay is easy, just slide your coconut under the falling umbrellas. There's nothing to learn and you can get started quickly.