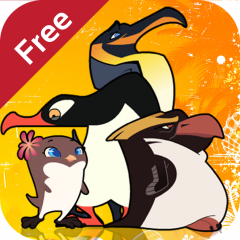 Aloha – The Game out nowfor iOs and Android!
Entertaining platformer with amazing hand drawn graphics, a lovely storyline and four totally crazy penguins is available for free as of today.
Berlin, October 11, 2013 –The international operating multiplatform publisher Immanitas Entertainment releases the platformer/runner Aloha – The Game worldwide today. The mobile game is optimized for smartphones and tablets and is available in a multilingual version at iTunes and GooglePlay for free.