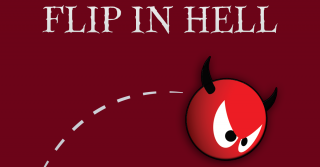 App developer Rory Buckley announces Flip in Hell for iPhone, iPad & iPod Touch.
Flip in Hell offers a unique & refreshing approach to the classic endless game style. Prepare to flip yourself through the depths hell, scoring points as you flip between platforms. The game has a frustrating-but-addictive edge to its gameplay, there really is no room for error!
Since release, Flip in Hell has gained many fans & users - many say it has a certain charm to it that many other similar style apps fail to achieve. Some believe this could be the beginning of a new "Flappy Bird' style phenomenon!!