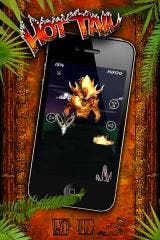 1 June 2011
MEDIA RELEASE
FRONT-SCROLLER GAME FOR SMARTPHONES RELEASED
AUSTRALIAN developer, Valhalla Studios, has officially released its debut game 'Hot Tail' for smartphone users.
With its intuitively easy and innovative front-scrolling gameplay, Hot Tail is comparable to timeless classics such as Crash Bandicoot and is now available for just $1.19 on both the iTunes App Store and Android Market.
Valhalla Studios' General Manager, Simon Banks, said Hot Tail was a revolutionary gaming experience for smartphone players.
"Hot Tail's gameplay is instinctive, so any gamer can play it. It's fast, fun and casual, which makes it a great 'time killer' while travelling on public transport or waiting to go into a meeting or appointment," Simon said.