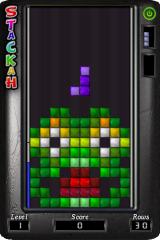 The evolution of Tetris is now freely playable on your favorite iOS device.
STaCKaH Lite brings you 3 brand new and unique levels, while maintaining the superb gameplay of the full game.
There are now no excuses left for why you would not have the best block stacking game available installed on your iPhone, iPod Touch and/or iPad.
Grab it at http://stackah.gameplayheaven.com or directly from the AppStore.