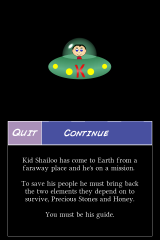 Berkshire England - Family game developers Dadooq proudly announces the release of their first game for iPhone, iPod and iPad. It's an action/puzzle game called Kid Shailoo. The Kid has come a long way from his home planet and he's on a mission! He wants to relieve us of our precious gems and as much honey as he can lay his hands upon.
There are 64 action-packed brain teasers in which you have to collect the gems, grab the honey ( after helping the bees into their nests ) and eliminate the spiders that emerge from the blue eggs. When all that is done, the lights come on in your green spaceship and you can take your booty home to a grateful planet.
There are blue UFO's to help you move around the screen and green keys to unlock even more gems.