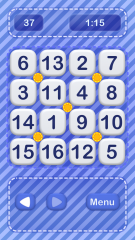 White Lemur Games releases Revolvo for iPhone and iPad
and this puzzle game is now available on the App Store
https://itunes.apple.com/us/app/revolvo/id770268104?mt=8.
The game is available since 10 December 2013 and the
target audience is the people who like puzzles similar to
15-puzzle, Rubik's Cube etc.
Revolvo is a simple but challenging and addictive puzzle game.
The goal is to place randomly placed numbers in order
by rotation of four number groups using pivot buttons.
There is a solution for any initial position.
App costs $0.99.
Compatibility: Requires iOS 6.0 or later.
Compatible with iPhone, iPad and iPod touch.
About our company:
We specialize in puzzles and 2-player board games.
Revolvo on the App Store: