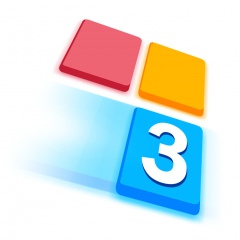 Clever, brain-testing puzzle game combines swipe mechanic and Match 3 gameplay
Seattle, Wash. – October 9, 2014 – WildTangent Studios announces Swipe 3™ (https://itunes.apple.com/us/app/swipe-3/id884335454?ls=1&mt=8), an easy-to-learn puzzle game, available free today for iPhone, iPad, and iPod touch. The new mobile title combines 'Match 3' gameplay with a fun swipe mechanic.
In Swipe 3, players start with three colored tiles on a four-by-four square board. Players then swipe with the goal of lining up tiles of the same color to remove them from the board and earn points. But they must swipe carefully; a new tile appears following each move. While the premise is simple, Swipe 3 tests new and veteran Match 3 players and keeps them coming back for more.