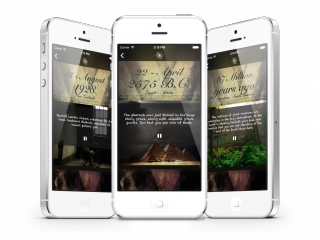 Sound Apps for falling asleep are enjoying great popularity. But not everyone can be pleased with the usual sounds of rain, wind chimes or ambient music. With the arrival of "Dark Dreams Time Machine" a unparalleled mobile sleep aid with an entirely new approach is born.
Developed by Maindreieck eCom and Bannkraft Media Dark Dreams Time Machine turns your smart phone into a time machine that beams you randomly to historical and fictional destinations and scenes.
In this way, the dream traveler lands on Dracula's castle in Transylvania, sneaks through the Victorian London with Jack the Ripper or explores a pharaoh´s grave chamber as a living grave good.