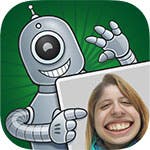 Ivan Rublev, independent iOS developer, is proud to release the Parodizer app for iPhone. This camera app allows to make funny faces of yourself, your colleagues or friends. With a dozen of parody-filters it can make for a great parody shot. The resulting image can be shared via email or added as a contact image!
Parodizer 3.0 is available on the AppStrore for Free since 15 December 2013 in the Games/Family and the Entertainment categories.
iTunes link:
http://itunes.apple.com/us/app/parodizer/id689673379?ls=1&mt=8
47sec video:
http://youtu.be/QvNRSEK_WvY
Screenshot:
http://a1.mzstatic.com/us/r30/Purple6/v4/66/fc/3c/66fc3c15-1b0d-2411-4ae...
Screenshot 2: