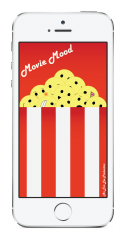 MovieMood comes to the iPhone June 21st
SAN DIEGO — June 21st, 2014 — We are happy to announce that movie mood is now available in the app store for FREE!
With MovieMood finding the movie you are in the mood for is just a tap away! Simply select the color that corresponds to your mood and MovieMood will suggest movies that fit your exact mood. In addition to suggesting movies for your viewing pleasure, MovieMood displays basic information about the movies and allows you to favorite a movie for later reference.
All the movies MovieMood suggests are available for purchase or rent from iTunes. After purchasing, watch the movies on any of your Apple Products.
Download the app: https://itunes.apple.com/us/app/moviemood/id877461524?mt=8&uo=4&at=11lu3P