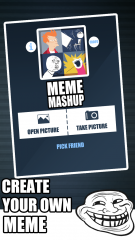 Meme Mashup provides a quick, easy, and fun way to add meme captions to any photo. Once you have created the perfect photo with a hilarious caption, you can share it with your friends in many ways. Unlike other meme apps, this app has been optimized and tested for iOS 7 and still works with iOS 4.3.
Meme Mashup is Free and available in the iTunes store now.
https://itunes.apple.com/us/app/meme-mashup-photo-booth-fun/id895661185?...
Game Features:
EASY TO USE
New to Memes? No problem! Select your own image or take a picture from your camera. Pick a meme and it will automatically add the caption to the image.
TOP MEMES