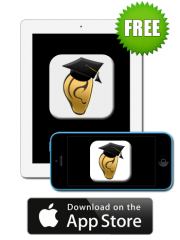 7th November 2013, London. Music education technology company Easy Ear Training has today released an enormous library of ear training information for musicians in a free app for iPhone and iPad.
Since its launch in 2010 the EasyEarTraining.com website has become the leading provider of free ear training information online, publishing over 300 articles, tutorials and downloadable resources for modern ear training.
These resources cover every aspect of developing your musical ear, from the basics of pitch and singing in tune, through classic topics like intervals and chords, to the most desirable skills like creative improvisation and playing by ear.