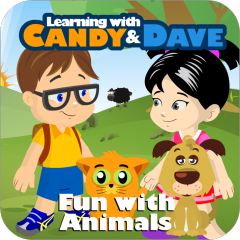 Learning has never been so exciting for toddlers and preschoolers!
Introducing the most fun video ebook apps which feature two lovely characters—Candy and Dave! Each video runs for about 1 to 2 minutes—perfect for keeping the short attention span of kids.
Let this Animal Kingdom ebook take you to the awesome world of animals. Learn about the different sounds that animals make. Discover what animals need in order to live. And when you get confused about the terms for the baby animals, you might want to explore more. Candy also teaches us about pet, farm and wild animals and why they are grouped as such.
Animal Kingdom contains six lessons and each lesson has an accompanying video, summary, things to remember and a quiz/activity for parent-child interaction.