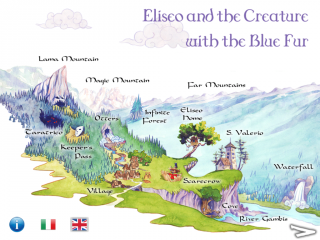 An Amazing Interactive Multimedia EBook Now Available in Apple's App Store
Kids love the iPad. Kids love playing with interactive multimedia books.
We have created an interactive book with passion.
Enter into the Eliseo World an iPad app kids can enjoy with..
VAL DI FIEMME (ITALY) – September 7, 2011 – Merlino Dreamlab (www.merlino-dreamlab.com) today announced that their first multimedia ebook, Eliseo and the Creature with the Blue Fur, is now available exclusively for iPad. This is an amazing interactive multimedia ebook where painted pictures, interactive creatures physic, particle and sound effect mix like a digital poetry.