Watts2Amps
Electrical Apps for Electricians & Electrical Engineers.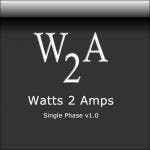 Watts to Amps application is an electrical conversion, calculator, converter tool which will calculate the electrical current of Ampres (Amps) of any circuit, load or appliance for you using the known voltage and wattage.
Watts to Amps application is an easy to use conversion tool which can make fast and accurate calculations for calculating the electrical power of Ampers (Amps). Enter your voltage into the VOLTS box, enter the wattage into the WATTS box, press convert, it's that easy! A must have application for any electrician, engineer or DIY'er
Public Information
Vendor Logo:
Opt In:
By submitting this form you agree that iPhone Life may send you newsletters and other information related to our publications, until such time as you cancel your subscription and account.
Profile URL:
http://www.procertssoftware.com