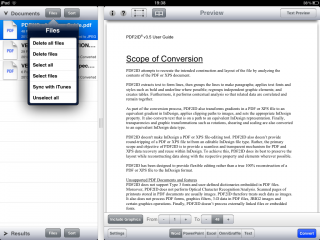 Osaka, Japan, September 21, 2012 - Recosoft Corporation the developer of
PDF2Office® the de-facto PDF-to-Office, iWork and OmniGraffle conversion
tool; PDF2ID®, the leading PDF-to-InDesign conversion solution; and
ID2Office®, the InDesign to Word and PowerPoint converter has released
PDF2Office for iPad v1.2.
PDF2Office Lite, PDF2Office for iWork and PDF2Office Business have all
been enhanced with a Bookmarks navigation panel. Furthermore, the text
area marked with the Area select tool can now be transferred directly to
the Mail application making it even easier to extract just the data
required from PDFs on the iPad.
PDF2Office converts PDFs into editable Microsoft® Office, iWork,