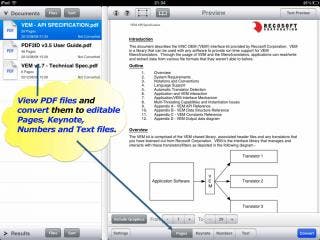 Osaka, Japan, December 12, 2013 - Recosoft Corporation the creators of the
PDF2Office® family of PDF-to-Office and PDF-to-iWork converters;
developers of PDF2ID®, the PDF converter for InDesign; and ID2Office, the
InDesign-to-Word and PowerPoint export solution has released PDF2Office
Business v1.5, PDF2Office for iWork v1.5 and PDF2Office Lite v1.5 for the
iPad.
PDF2Office Lite, PDF2Office for iWork and PDF2Office Business are now
fully compatible with iOS 7. Additionally, WIFI Transfer mode has been
included enhancing file exchange between connected devices. Finally, the
latest PDF conversion core has been included enhancing conversion fidelity
to the target formats.
PDF2Office converts PDFs into editable Word, Excel, PowerPoint, Pages,