medAssist
Submitted by
Marogo
on September 30, 2011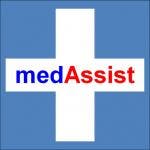 medAssist is your personal health assistant. If your physician asks you for the date of your last X-Ray or surgery or if there are any known family diseases or whether you're allergic to some medical ingredients, you have everything at hand with medAssist.
Regular checkups can save lives. With medAssist you can create your individual checkup plan for the whole family including your loved pets. You can even exchange your checkup plans with friends or the community via internet.
Boredom in the waiting room? Use the time to keep your health diary up to date. You might require it earlier than you may think of.
★ Maintain your family's health data
★ Create your own health diary