To Bee or not to Bear?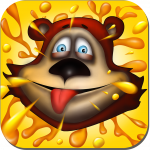 What do you like most: the bees or the bears?
"To Bee or no tot Bear" gives you only one choice. The Bee is cool, hard-working, jokingly-colored and is your bro. And the Bear is impudent, smells bad, pokes his nose, where he mustn't and is not your bro.