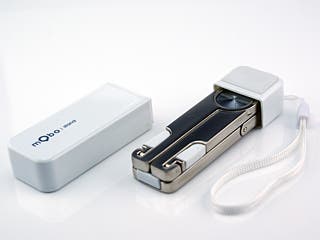 Introducing mobo | standS - The Shiny White Mini-Tripod for iPhone & Smartphones
mobo | stand (white) is a mini-tripod for iPhone & Smartphones, perfect for using alongside a Bluetooth keyboard, watching video, making Skype or FaceTime video calls.
This product is good enough for most smartphones out there not just the iPhone. We love the fact that the mobo | stand has the same Apple quality about it, they come in either white or black, which means it is sticking with Apple's tradition. We believe it is perfect for most smartphones but best suited for the iPhone, we used our HTC Desire HD and say this is the max size handset you would want to use with the mobo | stand.
Features and Benefits