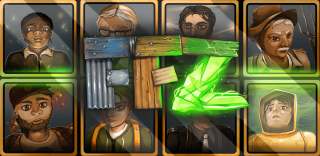 'Fight Fight Zombanite!' takes the zombie genre to new tactical heights! Pick your survivor and begin building your team: each survivor brings their own unique abilities to the fight including building turrets, healing, laying bear traps and even calling in paratroopers!
'Fight Fight Zombanite!' has over 50 levels with over 6 mission types. Rescue missions, driving missions, base fixing missions, defend objective missions, holdouts, … FFZ an incredibly varied experience that goes above and beyond the traditional zombie game. In addition, every level is randomly generated to ensure that no two playthroughs are alike.
Can you stop the Zombanite Horde before it's too late!?
FEATURES
* Beautiful cartoon 3D graphics
* Randomly generated levels