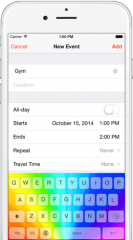 Bits&Coffee has released Rainbow 1.0, a new iPhone and iPad keyboard app with a great selection of themes that bring color to the grayish iOS system keyboard.
The ability to change the standard keyboard on iPhone/iPad is perhaps the best feature of iOS 8 since users have long been bored with the standard grayish keyboard that looks very similar to the original 2007 iPhone keyboard.
The Rainbow keyboard brings stylish colorful themes to the iPhone and iPad screen. Changing the keyboard theme is as easy as 1-2-3 and the user has a collection of 12 beautifully crafted keyboards to choose from.