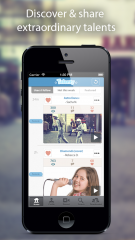 Antwerp, Belgium - Talenty, the brainchild of 17-year-old Sacha Nasan, provides a potential launching pad for people with talents of all types
When 17-year-old Sacha Nasan realized international superstar Justin Bieber had been discovered as the result of a YouTube video, he took it as an opportunity to harness the power of social media to help people around the globe gain recognition and even discovery for their unique talents. Thus, Talenty was born.
Talenty, a mobile app now available for download in the Apple iTunes store, gives people the ability to showcase their talents, whatever they may be - from singing, to dancing and anything in between. Users create and share their own unique videos for the world to see.