Apps: Social Networking
The features you should look for in an instant messaging app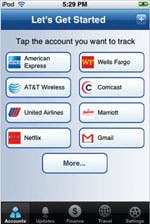 With so many sites and services available, unless you can get all of your friends and associates to agree on one, you'll need half a dozen apps to stay in touch. Fortunately, there is one app that lets you stay in touch with all of the social network services you subscribe to—A Personal Assistant.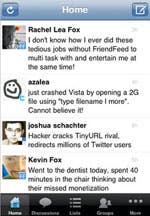 Perhaps the top site for sharing feeds is the aptly named FriendFeed (friendfeed.com). There are quite a few apps that offer access to one's FriendFeed account, but after looking at a number of them, I settled on FreshFeed. The app's home screen provides a chronological list of your friends' feeds and posts. Other screens offer access to more specific groups or discussions. I found the iPhone app to be even more versatile and usable than the Web-based version.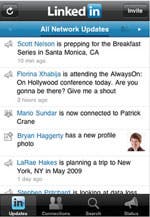 Perhaps the most interesting phenomenon to arise from constant connectivity is the "feed." The feed refers to the ability to instantly share links, thoughts, articles, and pretty much anything else with your friends and connections. 
LinkedIn was originally designed as a business networking site, but today its home page barely mentions business connections. Instead, it focuses on the various feeds those connections have posted; allowing the user to know what his or her circle of friends and acquaintances is reading, writing or posting.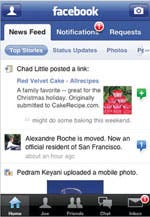 In recent years MySpace's dominance has been replaced by other social networking sites. The one finding the biggest place in people's hearts and computers is Facebook. In fact, when I bought a 1st generation iPod touch, Facebook was one of the first apps I downloaded. It remains on my first screen to this day.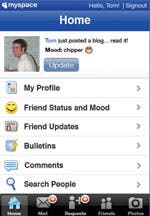 MySpace was the original social network, and although it has recently seen a significant decline in users and popularity, it's still relevant. I'm impressed with how much you can do with their iPhone app. If fact, it incorporates almost all of the Web app's main features into a simple and easy-to-use interface. You can even upload pictures or video that you take on your iPhone straight to your MySpace page. MySpace Mobile is a great mobile alternative for the desktop experience.
Myspace Mobile, Facebook, LinkedIn, Fresh Feed, and Personal Assistant—all on the iPhone
It is always amazing to watch the tides of change flow through the world of technology. It seems like just yesterday, e-mail was the big new mode of communication. (Imagine! You can write a letter and send it anywhere in the world…no stamp required.) Then instant messaging came along, but now it doesn't seem quite instant enough for many users. Social networking is the hot new technology, giving users the ability to communicate instantly with large groups of people.
Which Twitter app is best for you?
Twitter has been up and running for over three years, and we have had mature iPhone apps supporting Twitter for just over one year. It's safe to say that Twitter took a big leap when the first crop of iPhone apps came out allowing people with limited SMS accounts to join the fun. As we enter the summer of 2009, the number of Twitter apps for the iPhone has grown, offering plenty of options.