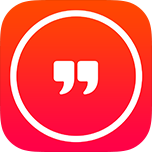 Quotegram is a simple iOS app that let you get inspired with inspiring words of wisdom from those historically important people, while you are on the go.
So if you have a few minutes of downtime, you can recharge yourself up with some beautiful sayings that are very pleasant to see and remember. Who don't love to get inspired? Rake-in those Facebook "likes" and Twitter "retweets" by easily sharing some of those great looking quotes with your friends and followers and establish some social visibility out there.
The quotes are presented in a pleasant way with subtle animations that tries to compete with the power of those words of wisdom. Even though it miserably fails competing with the power of those words Quotegram is certainly one of the best looking quote apps on the AppStore.