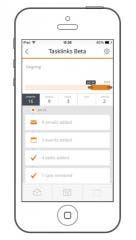 We have had a great response from you to our free beta pre-registration campaign. Only a couple of spaces left so please register with us sooner rather then later as we are giving away a limited number of promo codes to users who register with us at www.tasklinks.com for news on our pending new Beta release.
In exchange after downloading the beta we will ask each user to complete a small 5 question survey on features and functions they would like to see in the next update.
We think it is a fun way for users to get involved with the app development and for us to engage with our user audience.
Thank you,
The Tasklinks Team.