Apps: Productivity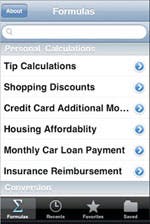 Personal Formulator is a simple financial calculator that allows you to quickly figure out discounts, tips, car loan payments, and more. We were visiting a friend and went to a car dealership to look at a Smartcar he wanted to buy. He needed help figuring out the total cost for two loans that had different interest rates. I taught music, not math, but had his answer quickly using Personal Formulator.
Personal Formulator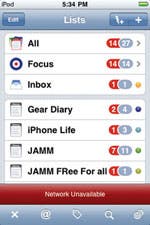 I tested a number of task managers when I bought my iPod Touch, but kept returning to Todo. In addition to its fantastic user interface, Todo has the ability to sync with online task managers, such as Toodledo (toodledo.com), Remember the Milk (rememberthemilk.com), or iCal on the Mac using Appigo's own sync program. You can sort, organize, tag, and categorize all of your tasks to display them in a way that is most useful to you.
Todo: organize and manage tasks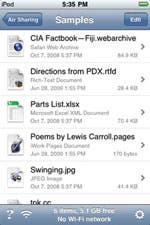 If a device is to be taken seriously as a business tool, it has to be able to let you review your important business documents on the go. Air Sharing lets you do this by turning your iPhone into a network drive on any wireless network. Once connected, you can transfer virtually any files to your iPhone and view them offline. The "Pro" version of this app is also available; it gives you additional PDF support and allows you to e-mail items from any computer to your 
iPhone where you can view them with Air Sharing.
Air Sharing: view important docs on iPhone