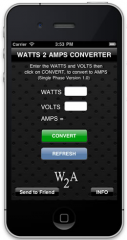 Pro Certs Software has now released the "Watts2Amps" (single phase version 1.0) electrical conversion app available on the iphone, ipod and ipad, a three phase version is coming soon!
Watts 2 Amps is a conversion, calculator, converter tool which will calculate the electrical current of Ampres (Amps) of any circuit, load or appliance for you using the known voltage and wattage.
This application is an easy to use conversion tool which can make fast and accurate calculations for calculating the electrical power of Ampers (Amps). Enter your voltage into the VOLTS box, enter the wattage into the WATTS box, press CONVERT, it's that easy!
A very useful application for any electrician, engineer or student.