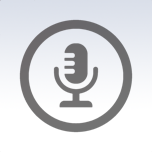 A critically acclaimed app for taking short voice notes has been updated with two major features added.
The new features are:
- Evernote integration - recordings can be used to automatically create Evernote entries.
- E-mail-to-self functionality - if you set a default e-mail address, the app will automatically send the notes to your inbox.
Other changes in this update include:
- UI improvements.
- Recordings get deleted immediately after autosharing/autosending.
Make sure you do not miss the changes. If you have not tried Say&Go yet, it can be found here.