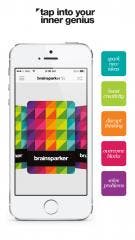 Brainsparker is a cool creativity app for the iPhone and iPad that helps to spark your imagination, trigger new ideas and solve problems that crop up in your daily life, at work and with your creative projects.
Download brainsparker for free from the iTunes Store at http://www.brainsparkerapp.com
Brainsparker is great to use when you're facing a challenge or have a dream and you feel stuck or need a boost of inspiration. To get your creative juices flowing again, simply pick a random brainsparker from a collection of 52 words, quotes, images, actions and questions and you'll be amazed at all the fresh new ideas you can generate.
Brainsparker is easy to use, fun and free!
-Pick from a collection of 52 random sparks
-Mix words, quotes, images, actions and questions