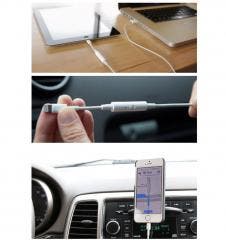 Bench 2X Faster Apple Lightning to USB Sync Recharger Cable
Pyramid Distribution is introducing a new product Bench 2X Faster Apple Lightning to USB Sync Charger Cable.
A regular USB cable is made to communicate (transfer data) and to act as a power supply between your USB
port and your device. When you connect your device to the USB port (on your laptop or in your car), USB port
automatically prepares to communicate with your device and provides limited electric energy: to sync AND
charge. Simply put, attempting to transfer data and charge at the same time is the main reason why charging
is so slow. The Bench cable designed the switch ON to 2000mA mode results in faster charging time for your
device when plugged into your computer or USB port in your car.
Features: