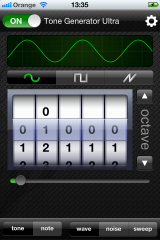 4PocketsAudio.com bring you a great FREE App - Tone Generator Ultra for iPhone
Tone Generator Ultra is a simple and easy-to-use test tone and frequency generator. Tones can be set by frequency or musical note.
Features:
- Sine, Square and Sawtooth Wave Generation
- White and pink noise
- Logarithmic / linear sweep utility with adjustable upper and lower frequencies and delay
- Impulse wave.
- Supports frequencies from 20Hz to 22kHz.