Apps: Lifestyle
Ed Kaczmarek, Kraft's Director of Innovation, New Services saw another opportunity, and a consumer app called iFood Assistant was born. This app was developed internally using the iPhone SDK and Apple Development tools and utilized the best of the iPhone and Kraft expertise. The development of the app was a straightforward and quick process.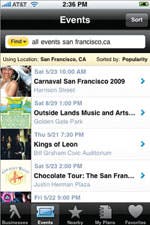 YP Mobile makes it easier to find businesses and events in the area. You can search by categories (Banks, Bars & Clubs, Discount Stores), and get maps and directions to your destination. I used it to call a Harley Davidson dealer in Osceola, Iowa to ask them about the road condition in their town. If you want to know what's really going on— talk to the locals; with an iPhone you don't even have to be standing next to them.
The iPhone's introduction and success in Japan is ushering in a new era of mobile services
In the last ten years, Japan has led the world in mobile services. Beginning in 1999, NTT DoCoMo introduced a content service called i-Mode. They followed this in 2001 with a Java application service called i-appli. In addition, Japan was ahead of other nations in the development and introduction of digital money and TV streaming services.
People have some pretty amazing photos stored on their iPhone, and some of them are very personal—to be shared with a loved one only, or with no one at all! In addition, some people keep sensitive work-related photos on their device. The iPhone is a very portable device, easy to lose or leave lying on a table at your mom's house. Private Pics provides a password protected area on your iPhone to store sensitive or very personal photos. (Also check out Find My iPhone, a new OS 3.0 feature that will help you locate your device if you ever lose it.)

Private Pics
$1.99 (free version also available)