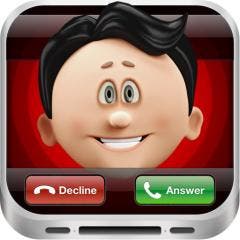 AppAnnex, a developer of several successful titles in app store just released an update to its Call Screen Maker Lifestyle app. New holiday themed content will help to make your holidays more fun with lots of new clip arts, frames and backgrounds to charge your contact list with holiday season spirit
App is available in iTunes App Store for just 0.99 and makes a perfect holiday gift.
Call Screen Maker offers a unique chance to add some colors and beauty to your iPhone or iPod (any generation will do). Enormous collection of vivid backgrounds, various frames, hilarious face effects and tons of clipart images will help you to customize the call screen of each and every single person from your Contacts!