Apps: Healthcare & Fitness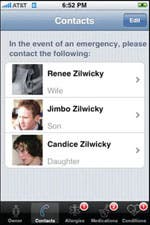 ICE (In Case of Emergency) lets you store all your pertinent medical and contact info on your iPhone and easily access it. The app also allows you to take a screen shot of an information summary and places it in your photo library. You can then e-mail it to a healthcare professional if necessary, or use the photo as the wallpaper on your iPhone. If, heaven forbid, someone found you unconsciousness and turned on your iPhone, they'd have your medical summary in front of them.
ICE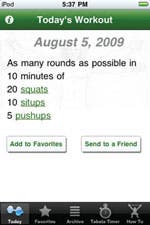 I get up at 5 a.m. for work, and typically do not return home until 6 p.m. That makes for a long day—one that leaves little time for exercise. So, I was pretty excited to try Workout of the Day, which helps you integrate a quick but intense workout into your daily schedule. The program uses 16 different exercises to create 365 unique daily workouts. None of these require weights or other expensive equipment. The workouts are around 10 minutes each, so they're easy to fit into the day. Most involve multiple rounds of lunges, pull-ups, and other exercises. It is a great exercise solution if you're pressed for time.