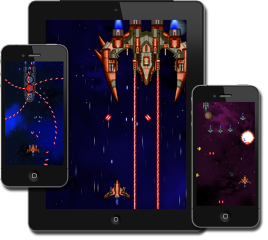 Son of Light is an arcade video game of the Uncommon Games studio inspired by the great retro type "Shoot Them Up" and the mechanics of games such as "Runner".
This game allows you to cross the universe at the speed of light. Your mission is to overcome in a row the 10 levels that will come to you while eradicating sneaky enemies and colossal bosses!
Trailer : http://www.youtube.com/watch?v=RuTjI_ZdKDg
FEATURES:
• In one go, face waves of enemies and bosses to save the universe!
• Help yourself with explosive bonuses, piñatas, rainbows and many more!
• Improve your shields, jet engines, guns, shootguns, missiles, lasers ...
• Set up your weapons according to your objectives.
• Complete many secondary missions to unlock new upgrades!