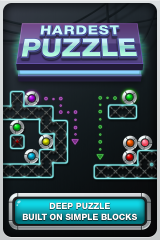 In couple of days the HARDEST PUZZLE game will be released in the AppStore.
Check out this youtube video what is it all about: https://www.youtube.com/watch?v=9oCo1IxnMTI.
Why is this game really awesome?:
1. A very simple design (blocks, balls and elevator);
2. Extremly easy to play (match at least 2 balls and clean up the stage);
3. Few and clear rules (limited number of moves and lives).
4. Smooth learning curve BUT once you know how to play... you have to use your brain, really! It is not just a child´s play!
Be the first who has access to this mind-blowing game and like our facebook page.
www.facebook.com/hardestpuzzle