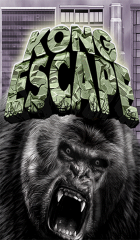 A game like none other where the character Kong tries to escape from his captors and is being hunted down. The player must strategize how to swing in order to dodge the incoming blades.
The player may attach to planes, eagles and choppers in order to aid or hinder his success in escaping. The jump button will also help swing higher but can only be used once per rope attached.
Players will compete in the Game Centre leader board
How far can Kong Escape?
More cities, ropes and characters available in the Pro version
ITunes Link: https://itunes.apple.com/us/app/kong-escape-lite/id923757048?ls=1&mt=8