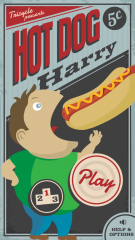 July 18, 2014
New Hope, PA - Tricycle today is thrilled to announce the release of Hot Dog Harry for iOS. Harry loves hot dogs. Feed him as many as you can before time runs out in this fast-paced eating frenzy. Hitting the right target will bring hot dog happiness. Hit the wrong target and you could be leaving Harry craving more. Are you ready to take on this food challenge?
Game Features:
• Exciting tap and swipe action
• Quick gameplay
• Fun for kids and adults
• Game Center Achievements and Leaderboards
• Unique upgrades
• New ways to play coming soon!
Device Requirements:
• iPhone 4/4S/5/5S, iPod touch (3rd/4th/5th generation)
• iOS 7.0 or later
• Universal Application
• 11.6 MB