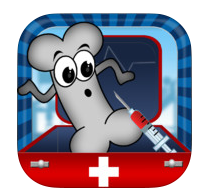 Enjoy the new Dr Bones Bubble Pop puzzle game! Available on iTunes TODAY!
Introducing the brand new mobile gaming app that is fun, addicting and kid friendly.
Dr Bones - Bubble Pop!
https://itunes.apple.com/us/app/dr-bones-bubble-pop/id884072985?mt=8
In this outstanding new Mobile Game App where you pop the bones with limited taps to figure out the puzzle to have ended up with no bones left.
Very simple game! It becomes more challenging the more levels you complete!
Everyday you are given a new hint Can you ask for more than that?!
Easy to learn and VERY kid friendly. DOWNLOAD TODAY!
Recap!!!!!!!
Tap the bone to pop it!