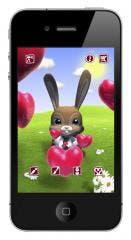 Right on time for this year's Eastertide "Talking Bunny" turns your iPhone and iPod touch into an Easter nest full of surprises!
Cologne, Germany, April the 8th, 2011 – What would Easter be without an Easter bunny? It's just wouldn't be the same without it! That's exactly what German games-developer "Nurogames" thought. "Talking Bunny" provides outstanding entertainment and brings the sweet long-eared friend right on your iPhone and iPod touch.
Simple game play, interactive touch- and speech-controls, and expendable features generate a realistic and entertaining pet-simulation for your mobile phone.
The diligent Bunny repeats whatever the user has to say. The custom records can be uploaded to Facebook and YouTube.