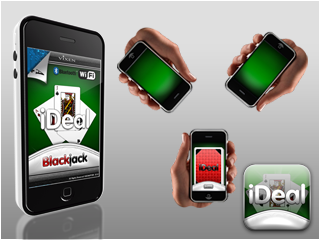 iDeal Blackjack Pro is a unique blackjack experience for your iPhone or iPod Touch.
Be the dealer and deal out the cards or play against the dealer and see if you can beat the house. You can play a single player game or play against friends using bluetooth or wifi …"
IDeal Blackjack Pro Gives you the ability to peel cards with your finger tips or shuffle with a shake of your wrist as well as dealing cards out to friends as simply as if you had real cards in your hand.
the must have app for 2011.Simple and easy to use hand gesture controlled functionality. Treat your iPhone as if it was a real deck of cards. Shuffle , Deal and Peal.
Features Include:
- Shuffle and deal between devices
- Play against the house or play with up to four friends