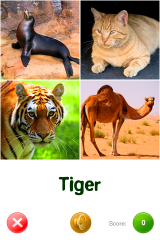 February 7th – Perth, AUSTRALIA – With the rapid growth of iPhone sales worldwide, more and more mobile devices are ending up in the hands of young children. They are the perfect distraction when mum or dad needs some peace and quiet around the home, in the car, or when the family is out and about.
"Our 2 year old daughter absolutely loves my iPhone. Even before she could talk, she knew how to unlock the phone, find her favorite app and play a game," explained Josh Bender, co-founder of Extra Smart Apps. "It was truly amazing to watch her learn and grow using fun, simple educational apps on the mobile phone."
This inspired Josh and his wife, Erin, to create an iPhone app for their daughter to learn animal names and sounds in a fun, interactive way.