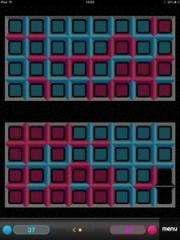 Amazing Dots is a funny and addictive game that you'll find hard to put down! Use the one or player mode to connect the dots in a variety of challenging patterns. With more than 70 levels, you can play a long, long time.
Today, you've had it! You're tired of hearing from your know-it-all friend that he's a much better player than you. Fed up, you challenge him to a two player match of Amazing Dots. Now, you're going to show him that you have a lot more skill than he does.
You each play your turn, filling squares with your dots. Before long, you are both trying to capture the other's territory but let's face it – your buddy doesn't stand a chance. Pretty soon, you're declaring victory and daring him to play a re-match.