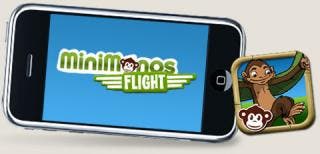 New levels and bonuses in addictive app from eco-kids' virtual world
*Click here for screenshots, bios and official logos.
Wellington, New Zealand, 15 May, 2011: MiniMonos (http://www.minimonos.com), the sustainability-focused virtual world for children, has made its highly rated iPhone app MiniMonos Flight free for a limited time.
Players of the game become flying monkeys, and have to tilt their iPhones left and right to swoop through the sky, collecting wind clouds and avoiding energy-sapping pollution clouds. Trampolines on the ground provide bouncing rescues to monkeys that get too low.