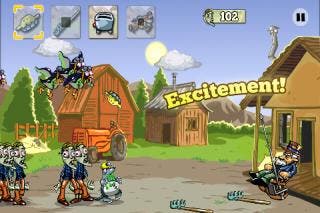 Tap To Win is pleased to announce Zombie Pie - a super casual game for iPad and iPhone.
Zombie Pie is an easy to learn, hard to master game that finally lets you launch pies (and more!) at hordes of the undead. Defend your home like in thousands of other apps... but this time it's slightly different!
Crazy Joe has devised the ultimate pie-launching weapon and attached it to a comfortable rocking chair. Who said fighting the undead had to be taxing? Well, it still is! Because if it wasn't, it wouldn't be a very good game.