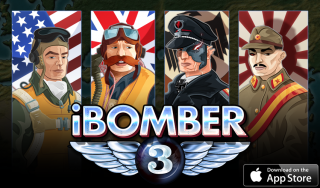 iBOMBER RETURNS, LEARN TO FLY AGAIN AND LET'S GO BLOW STUFF UP.
5 Years after the No.1 iPhone game was launched (and spawned the epic iBomber game series), the classic game returns
to its origins in spectacular style. Get ready for all-new adventures and let's go blow stuff up!
It's time to take the battle back to the enemy again, defend freedom and blow stuff up like never before. Pilot B-17 and
Lancaster bombers while searching out key enemy targets and forces on land and sea to destroy! iBomber 3 will immediately
transport you into the very thick of the action with missions across the Pacific, Europe, the Mediterranean and North Africa.
iBomber 3 offers a huge variety of game-play, excitement, jaw-dropping explosions, effects and total bomb dropping action.