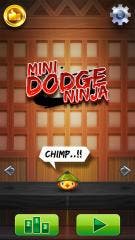 Mini Dodge Ninja is free on iOS and Android now!
Mini Dodge Ninja is available for free on the App Store and Google Play. Well, what are you waiting for? Download Mini Dodge Ninja now!
We're glad to say that MiniEpic's very first game, Mini Dodge Ninja, has just been released! Prepare yourself to fall through an endless labyrinth… all while avoiding deadly and perilous obstacles ready to turn you into pulp. Play as the cute and cuddly Little Chick, or use your prowess to unlock the secret characters – mystical Mr Frogo and the daring Ninja Cat, each with their own unique play style and randomise obstacle.