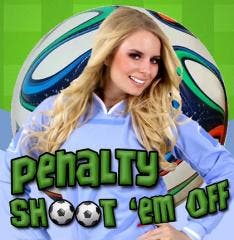 The cheekiest football app in the world has been created in time for the World Cup!
This cheeky app Penalty Shoot 'em Off has been created with male football fans supporting the World Cup in mind and brings a whole new dimension to a penalty shoot-out! Just when you thought the World Cup couldn't get any more exciting, five gorgeous goalkeepers come along for football fans all over the world to play with! The aim of the game is; score a penalty against the gorgeous goalies and they'll remove an item of their kit for your viewing pleasure, score all five penalties in a row and...
With a real time leader board and all 32 countries playing in the World Cup 2014 represented, it's time to get competitive and help your country top the leader board and win the almighty world cup.