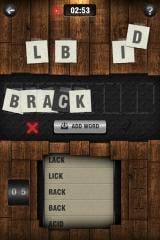 Puzzle Love is the latest and greatest puzzle game available for your iPhone.
Play all the traditional puzzles you know and love in a beautiful and calming setting. It's chock-full of gorgeous retina graphics & packed full of fun.
Inside you'll find:
♥ Sudoku - everyone loves sudoku!
♥ 5x5 - Sometimes going by other names, in 5x5 you make words left to right and top to bottom on a 5 cell by 5 cell grid. Harder than it sounds!
♥ Target - Our favourite. Make words of 4 letters or more using the 9 letters given to you - and don't forget to use the target letter!
♥ Wordbuilder - Target's little brother - you're only given 5 letters and can use any combination to make words of 3 letters or more.