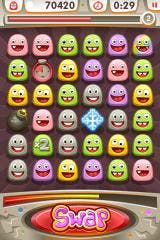 Introducing the (r)evolution of "match 3" games.
Thumbfire Games brings "multimatching" to gamers worldwide with their new iOS game "Swapple".
Matching gems has been a top-selling concept for casual games – played by millions of players as online game or smartphone app. But nearly all of those games are limited to match a maximum of 3 to 5 gems for each move – making the gameplay slow and less challenging.