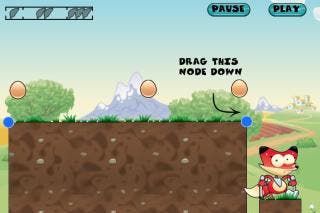 Paris, France, - Independent games development studio Momorprods is proud to announce the
release on December 2nd of Feed The Fox, an highly innovative physics-based puzzle game
for the iOS platform.
Feed The Fox introduces Edgard, a fox injured in a very silly accident, who can't catch
chickens anymore. He needs the player's help to eat the hen eggs. Based on a cutting-edge
physics engine allowing realtime distortion of the levels, the game offers unique
challenges in highly colourful and cleverly animated retina and HD graphics.