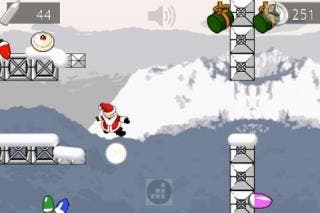 ClumsyClaus re-launches on the iPhone and iPod touch - but be quick
One of last year's popular Christmas games, ClumsyClaus, has been relaunched in times for Christmas.
This cool, fun game is perfect for the festive season providing incredibly challenging gameplay for Apple's iOS devices.
Once again, Santa has forgotten to tie down the presents on his sleigh, scattering gifts across Lapland. With just hours before Christmas Day, he is frantically trying to gather them up. Help our clumsy hero collect as many as possible, avoiding the hot fairy lights before the time runs out.
Available Now
Clumsy Claus is one of fledgling indie developer Spaghetti Studios' most popular releases.